"Road trips usually start with a sneaking suspicion: somewhere else on the coast someone is getting better waves than you are. Road trips are as much a rite of passage as your first time at a new spot. Who doesn't remember that day?" —From the "Road Trips" section of 'Search For The Perfect Wave' Vol. 1
BOOK SIGNINGS
The big news this summer are the in-person book signings and slide show events we're doing for the book. We get a thrill out of meeting people who remember the SURFER magazine articles from way back when, hearing their own surf-travel-misadventure stories, plus sharing our own in photos and Q&A sessions.
A few events coming up this summer:
July 14th 6:30-7:30pm
Santa Monica
@ DIESEL Books in Brentwood
Brentwood Country Mart
225 26th Street, Ste. 33
Santa Monica CA 904024
August 11th 6:00-8:00pm
Hermosa Beach Surf Museum
710 Pier Ave
Hermosa Beach CA 90254
Laguna Art Museum – Summer 2016 date still TBD
307 Cliff Drive
Laguna Beach CA 92651
RECENT TRIPS
Here's a bit of time-warp-travel…
This photo is from our surf hunting trip in Costa Rica in 1973.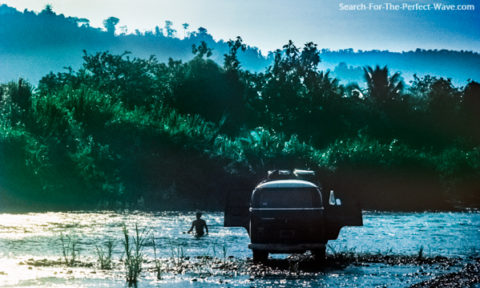 On our nautical charts the points in the very south had really good potential, so we took every road we could along the coast before getting stopped by this river about 50 kms south of Quepos.
Beyond these hills, quite a ways south, lay Pavones—the now infamous, awesome & perfect left point. This is Chuck Walters, checking the river depth to see if we could drive across. "No freakin' way, Chuck!"
Flash forward to 4 weeks ago…we were in the Nicoya Peninsula in the north of Costa Rica, checking out the coast south of Nosara on our last day there. We must've taken a wrong turn, as we ended up being blocked by—yep, you guessed it—water too deep to drive across.
43 years later, still getting blocked by rivers!
On this recent trip we tested out doing a few international book signing & slide shows. Craig brought a digital projector, laptop and a MacGyver'd screen made from black-out cloth and tent poles. Worked out pretty well, stoking the people showing up for screenings in the tropical rainforest, an art gallery in Tamarindo (La Galeria Centro de Arte) to the world's first world's first LEED Certified surf hotel (integrated sustainability) at the Olas Verdes Hotel in Nosara.
As we got down to having only 3 books left for sale in Costa Rica, we contemplated putting up a sign with the local chilled coconut vendor saying "Cocos y Libros Se Vende!"
BOAT TRIP
In Costa Rica we made a boat trip over to Witches Rock and Ollie's Point, a right sandbar inside this remote tropical bay about an hour + boat ride away. The wave was breaking but had over 20 people out, so we cruised around to some nearby islands for potential surf spots. Found a few, but they looked kinda dicey with lots of rocks and infrequent sets. Motored back to Ollie's and hung out and surfed some decent 4-5 foot waves that lined up along the sandbar.
Left there about an hour before dark and hit a hellacious squall the last half hour of light, amazing weather… total storm squall stuff, high winds, hard rain, banging boat, lighting striking the harbor we were flying to before dark, everyone ready for a lightning blast on the boat to blow us out of the water, giant-looking dolphins leaping out of the water next to the boat—to say it was a wide ride back to shore is not giving nearly enough credit to the weather or the skipper, who kept it full throttle right to the sand at dark with lightning and thunder and in pouring rain.
That misadventure wiped us out for a day after that. Now it's a month later, and Craig swears he still has a full body whiplash!